2016.12.16 Friday
マウイ島より、サモア系ハワイアン、Matagi(マタギ)のファースト・フル・アルバム『Valley Isle』が配信開始!
シングル配信されたValley Isleをはじめ、ハワイアンではKapua,Maui Medleyや、タヒチアン、サモアン、エルヴィスのCan't Help Falling In Loveのレゲエ・カヴァーなども含む全13曲収録!これはかなりおススメできる一枚!
※MATAGIとはサモア語で風の意味
Matagi shares a blend of contemporary Hawaiian and Polynesian music, as well as island style contemporary music.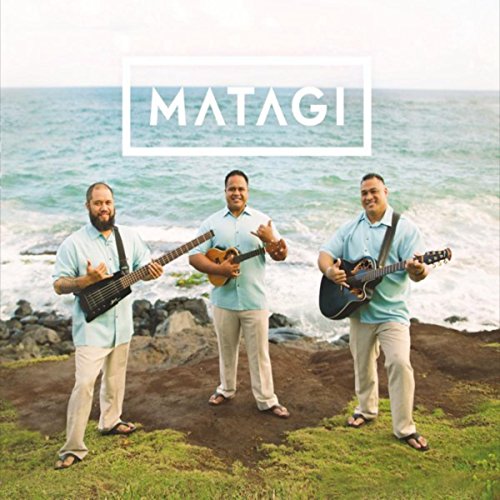 Valley Isle
Matagi
曲目リスト
1. Valley Isle
2. You Don't Write
3. Bad Fish
4. Kapua
5. Can't Help Falling in Love with You
6. Manu O Le Vaveao
7. Dream's Over
8. Stronger Than
9. Don't Stop Your Loving
10. Maui Medley
11. Te Pua No'a No'a
12. Hula Girl
13. Dear Saint Nick
Listen(試聴)※Apple Musicは入りたてなのでしばらくお待ち下さい。AmazonかiTunesで聴けます
MATAGI Trio
メンバー
マーヴィン・テヴァン(Marvin Tevaga)ウクレレ
キモ・ ブレーム(Kimo Brehm)Jody "Kimo" Brehm Jr.
カラニ・マイルズ(Kalani Miles ) Marvin "Kalani" Miles
Album Notes
Matagi is a Hawaiian, Polynesian and Island contemporary band from the island of Maui, Hawaii made up of 3 friends, (Marvin Tevaga, Marvin "Kalani" Miles and Jody "Kimo" Brehm Jr.), who share a love of music and common musical bond. This, their debut album entitled "Valley Isle" is a mixture of Hawaiian, Samoan, Tahitian and Island contemporary sounds which feature cover songs as well as original music created by Matagi. Matagi's music will take you on a Polynesian journey, as well as take you back to a nostalgic era utilizing contemporary beats and rhythms put to timeless classics such as Elvis', "Can't Help Falling In Love With You" and a tribute to an island contemporary legend Ernie Cruz Jr.'s "You Don't Write". Let the music take you on a journey that is filled with happiness and relaxation as you sing and tap along as if you are right here in the beautiful tropics too. Hope you enjoy the music of Matagi!! Aloha No!!

Genre: World: Hawaiian, Reggae
Release Date: 2016
© Copyright - Mea Nui Records LLC

参考動画:

I'm Yours/No Woman No Cry Medley ©Marvin Tevaga Youtube
While preparing to serve a church mission in New Zealand, composer and ukulele player, Marvin Tevaga's inspiration for this particular composition were his island roots and missing his family and friends. Marvin Tevaga, Kimo Brehm and Kalani Miles make up the musical group Matagi, and share with you "Valley Isle", a blend of Hawaiian Island style music with a reggae vibe.
Matagi: Official Web | facebook 
転載引用不可©RealHawaii.jp