2017.03.18 Saturday
pbsHawaiiで4月6-9日(日本時間4月7-10日)フィルム・オブ・エディ&マーヤ・カマエ・フロム・ザ・ハートと題し、エディ・カマエ氏が設立したThe Hawaiian Legacy FoundationでこれまでDVDでも販売されたドキュメンタリー映画10本が放送されるようです、またライブストリーム配信の告知もされており、国制限がかからない限り日本でも観れると思います。
ライブストリーム予定は4月6-9日 日本時間:4月7-10日 各日時間が異なってますのでタイトルと日程は下記にて
pbsHawaiiのThe Films of Eddie & Myrna Kamae - From the Heart の予告動画
The Films of Eddie & Myrna Kamae - From the Heart | Promo ©PBS Hawai'i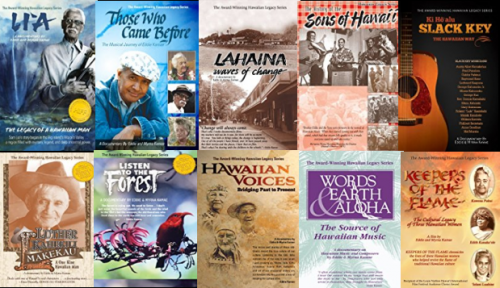 Two films airing Thursday, April 6, 8-10 pm
(日本時間:4月7日(金)午後3時-5時)
Liʻa: The Legacy of a Hawaiian Man
Eddie Kamae
Hawaiian Legacy 2011-03-08

Sam Li`a was a Hawaiian song composer who spent his life in the remote valley of Waipi`o on the Big Island of Hawai`i. There he perpetuated the tradition of celebrating the beauty of one's place and memorializing the events of its people. Among the musicians inspired by Sam Li`a is Eddie Kamae, a major force in the revival of Hawaiian music. In this film, he translates his gratitude and love for Li`a into a visual song, in which music, place and people find their original harmony.
Those Who Came Before: Musical Journey of Kamae
Eddie Kamae & Myrna


Those Who Came Before tells the story of a young Hawaiian `ukulele virtuoso's journey of musical self-discovery and how it turned into a 50-year pursuit of Hawaiian cultural and musical traditions. The documentary pays tribute to the music of Hawaiians whose gifts of knowledge helped guide Eddie Kamae. His pursuit led him to some of the most respected gatekeepers of the Hawaiian Renaissance: the great author and translator Mary Kawena Pukui, the 'Songwriter of Waipi'o' Sam Li'a, 'Aloha Chant' author Pilahi Paki, and Hawaiian cultural resource Lilia 'Mama' Hale. One by one, they entrusted him with key pieces of Hawaii's musical heritage - inspiring him to understand, perform, and pass that heritage on to the children of Hawai`i. Those Who Came Before: The Musical Journey of Eddie Kamae, is the 10th documentary from Eddie and Myrna Kamae's celebrated and multiple award- winning Hawaiian Legacy Series.
Two films airing Friday, April 7, 8-10:30 pm
(日本時間:4月8日(土)午後3時-5時30分)
Lahaina: Waves of Change
Eddie Kamae & Myrna Kamae
In 1999 Hawaiian music legend and documentary filmmaker Edie Kamae visited the West Maui town of Lahaina, only to find that Pioneer Mill, the center of Lahaina's sugar industry, was closing down. Eddie knew that this signaled the end of Lahaina's plantati


Hawaiian Legacy 2008-02-26
History of the Sons of Hawaii
Eddie Kamae & Sons of Hawaii


Some of the leading voices of the Hawaiian renaissance which began in the early 1960s were musicians and singers. Among the most influencial groups of this era was the SONS OF HAWAII. The S.O.H. was led by legendary ukulele player Eddie Kamae with slack-key virtuoso Gabby Pahinui, Joe Marshall and David Rogers The DVD covers 40 years of Hawaiian music and its performers' devotion to the sound that conveys the spirit of Hawaii.


Hawaiian Legacy 2004-11-16

Two films airing Saturday, April 8, 7-9 pm 
(日本時間:4月9日(日)午後2時-4時)
Hawaiian Way [DVD] [Import]
Eddie Kamae Myrna Kamae


This film is a moving journey into the beauty and meaning of Hawaiian slack key music. Award-winning director Eddie Kamae's rare combination of master musician and cinematic storyteller is the key to showing how Hawaii's cultural traditions and the ki ho'alu guitar intertwine - and opening the door to a greater love of that music. Candid interviews and archival images combine with the music of many virtuoso performers, from legendary Fred Punahou and Gabby Pahinui to Raymond Kane and today's Ledward Kaapana, to tell the slack key story from the 1830s to the present. It shows how this music perpetuates family tradition as songs, techniques and special string tunings are passed from one generation to the next.
One Kine Hawaiian Man: Luther Kahekili Makekau
Eddie Kamae Myrna Kamae


Award-winning documentarian and musician, Eddie Kamae, brings you another powerful story of Hawai`i. Eddie Kamae is a native Hawaiian singer, `ukulele virtuoso, composer, and co-founder of the legendary Sons of Hawai`i music group. In 1986, he launched The Hawaiian Legacy Series in the the belief that Hawaiian voices, language, music and cultural wisdom, preserved on film, would be an enriching experience for everyone. This award-winning, one-hour documentary pays tribute to the untamed spirit of a colorful and controversial Hawaiian man. Known throughout the islands and descended from a line of warrior chiefs, Luther Makekau was part philosopher and part outlaw, a chanter and a singer, a flighter and a lover, a cattle rustler, a rebel and a poet. Born on Maui in 1890, during the reign of King Kalakaua, he lived nearly a hundred years, shaped by a century of turbulent cultural change.



Four films airing Sunday, April 9, 12-4 pm
(日本時間:4月10日(月)午前7時-11時)
Listen to the Forest


Listen To The Forest, an environmental documentary by award-winning musician and filmmaker Eddie Kamae, speaks to the widespread concern for rainforest preservation. It is about the Hawaiian Islands, and also about a Hawaiian way of feeling. A film for all ages, Listen To The Forest emphasizes the powerful connection between a unique natural history and Hawaii s rich cultural life. Combining interviews, traditional chants, and original songs and dances, this film from the beloved Hawaiian Legacy Series, gives voice to an older form of ecological wisdom summed up in the phrase malama aina to take care of the earth which is both our physical home and a source of spiritual nourishment.



Hawaiian Voices: Bridging Past to Present
Hawaiian Voices: Bridging Past to Present
This award winning one-hour documentary by celebrated filmmakers Eddie and Myrna Kamae, pays tribute to the role of the Kupuna (elders) in preserving Hawaiian culture. It focuses on the legacies of three respected Hawaiian elders whose lives bridged the transition from older times into the late 20th century. They are Ruth Makaila Kaholoa'a, age 93, of the Big Island; Lilia Wahinemaika'i Hale, age 85 of O'ahu and Molokai; and Reverend David 'Kawika' Ka'alakea, age 78, of Maui. A special emphasis in the documentary is the power of Hawaiian language as a key to cultural connectedness and continuity. Each of these kupuna speaks Hawaiian fluently, as it was once learned within their families. Each is a living archive of invaluable lore and recollection, a treasure whose stories, memories and perspectives need to be shared as a way of bringing the healing wisdom
Words Earth & Aloha: Source of Hawaiian Music [DVD] [Import]
Words Earth & Aloha: Source of Hawaiian Music
Pualani Kanahele, Lydia "Mama" Hale, Andy Cummings, Clyde "Kindy" Sproat, Helena Maka Santos

In Hawai'i music has always been much more than a form of entertainment. It has been a key to Hawaiian culture. This one-hour documentary explores the sources of a complex tradition, from early chants and the 19th century gospel influences, to the work of


Keepers of the Flame: The Cultural Legacy of Three Hawaiian Women
Actors: Kawena Pukui, Edith Kanaka'ole, Iolani Luahine



This is the story of three extraordinary Hawaiian women who helped revive Hawaiian culture when it was perilously close to being lost. It was a time when the monarchy had been overthrown, the Hawaiian language banned from public places and schools, and th
※説明文、画像はAmazonよりcopy
配信ページ:時間等変更になる場合があるので、御確認願います。
The Films of Eddie & Myrna Kamae From the Heart
pbsHawaii 公式(英語)
http://pbshawaii.org/kamaefilms/
the Hawaiian Legacy Foundation 10本まとめ予告編
About HLF Promo REVISED from Hawaiian Legacy Foundation on Vimeo. 
©The Hawaiian Legacy Foundation 
OfficialWeb: http://www.hawaiianlegacyfoundation.org/