2017.12.15 Friday
マウイ島より、ケーン・ファイヤ(Cane Fire)、ファーストアルバム『Coming Home』がリリース!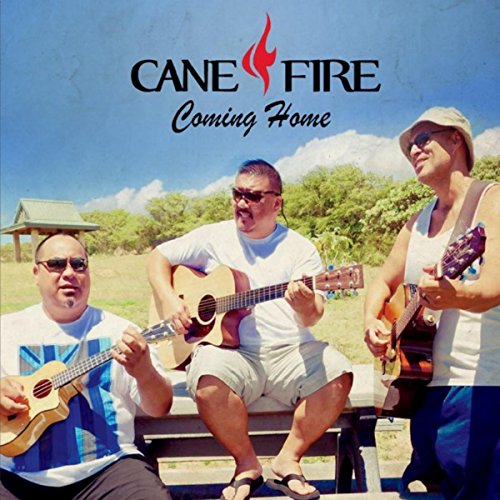 Coming Home - Amazon Digital
Cane Fire
曲目リスト
1. Hawaiian Woman
2. Dukes Beach House
3. Malia
4. Kakua Pau
5. Song for Lei
6. Coming Home
7. Follow Your Dreams
8. Lahaina
9. Reggae Jam Party
10. Windy Day in Wailea
11. Hulali
12. Hapuna Beach
Listen(試聴)
オリジナル盤発売日: 2017/12/1
発売日: 2017/12/1
レーベル: Cane Fire
著作権: ℗c 2017 Cane Fire
収録時間: 48:04
ジャンル: ハワイアン、ポップス、フォーク、レゲエ
Album Notes
In 2010, when Kaniela Q, Joe Chee, and Kahala Greig formed Cane Fire in Kaniela's Wailuku backyard, Hawaii's sugar industry had dwindled down to just one remaining plantation: Maui's HC&S (Hawaiian Commercial & Sugar Co.). They performed at popular local nightspots but eventually grew apart. Like the harvest blazes for which it was named, Cane Fire was all pau (finished) by late 2016.
When Kaniela announced his decision to leave Hawaii earlier this year, the trio resolved to record this CD as a project of aloha. Each of the Cane Fire members contributed original compositions, resulting in a diverse yet harmonious mix of styles and voices. Kahala's father, the late Jimmie Greig, is also represented, with "Lahaina", the elder Greig's expression of love for his hometown.
Every song has a story behind it: some whimsical, like "Windy Day In Wailea", written on the spot by Kaniela at a poolside gig, when the wind blustered so hard, the microphone couldn't be used, and he was forced to play instrumentals all afternoon; some nostalgic, like Joe's "Malia", about his grandfather's charter fishing boat; some, like "Hulali", in which Kahala honors his favorite hula dancer, are heartfelt tributes. From the Jawaiian beat of "Reggae Jam Party" to the reverent musical adaptation of the traditional chant "Kakua Pa'u", Cane fire captures, in sweet song, the essence of our Hawaiian Islands.